Welcome pack for Revlon, launching the Nearly Naked range
The desire for coverage, unbelievable complexion and a refreshing look drove BoxcoUK to create this luxury presentation pack for Revlon.
Pressed powder…, Blends seamlessly… 'Dare to wear' was the fitting slogan that Beauty Seen PR used to launch the new makeup range so refreshingly light that it melts right in, creating a fresh, even look that only comes from Revlon.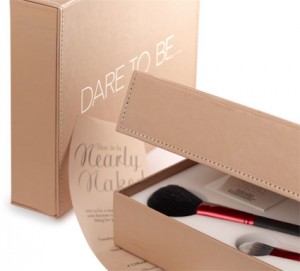 Attention to detail
Perfecting the pack, BoxcoUK added edge stitching to the paper overboard pack, with magnetic closure and foam inlay which was cut to hold brushes & samples…  Pure luxury.
Mirror magic
Flush with the lid of the pack, recipients of the pack (Magazine Editors & Beauty Bloggers) were able to try for themselves and look in the mirror… straight away.
Charlie Ross, Senior Account Executive at Beauty Seen PR, comments
"This pack was engineered by BoxcoUK with a luxury finish that suited the Revlon Nearly Naked launch.  Overall, really happy with the outcome, would definitely recommend BoxcoUK for their creative ideas and attention to detail, Thanks."
Ronnie Devine, comments from BoxcoUK
"A perfect example of a big brand (Revlon) launching a new product to an existing clientele, with very effective PR (Thanks to Beauty Seen).  Like a lot of the projects BoxcoUK gets involved in, it was highly creative and one-off."
Is your care of clients only skin-deep?
We all know keeping clients is really important, and getting referrals is golden.  That's why we're here to help you win more of them… 3 more like your best.  Putting time and effort into marketing with real thud-factor and real ROI… Wow, that's something to tweet about!  For highly effective training & marketing communications that Win more…  Call BoxcoUK on 020 3011 0211.
For help with fashion & beauty PR, visit Beauty Seen www.beautyseenpr.com and for Revlon, visit www.revlon.co.uk